Post by millard1399 on Mar 2, 2009 7:46:54 GMT 10
Linda Star - (Walkabout) camper van:Early 1968
- The Linda Star camper van is the brainchild of Tony Pusterla, and is named after Tony's small daughter. It is designed to fit on the carrying tray of any popular utility, such as Holden, Falcon or Valiant. It is made of polyester fibreglass reinforced plastic, which is claimed to be three times as strong as mild steel at one third of the cost. The camper weighs only 550lbs yet is made of 35 miles of continuous fibreglass to make outer and inner shells, while to achieve strength, there are no right angles in its construction. Tony terms the process as a "one-piece" cylindrical stress panel. The Linda Star is 12ft 3ins long, with a width of 6ft 4ins and has a capacity of 350cu. ft.
To test the van, Pusterla bought himself a new Falcon utility and fitted two plates to the sides of the tray. He then jacked up the Linda Star on its four independent telescopic jacks and backed his utility under it. These jacks fit into the only steel section of the van - a square steel strut about one and a quarter inches square. The jacks fit into a hole at each corner and by winding a simple handle at the top of each jack, the van is raised or lowered. Each jack is independent of the other, a saving feature if the van is deposited on uneven ground. After lowering the van onto the utility it is secured by inserting four bolts between the plates on the van and the utility.
Pusterla set out on a 10,000-mile test trip to see how the van stood up under Australian conditions to which it would be subjected. He left Brisbane intent of driving the utility as if it were not carrying the camping body. His route took him up the Queensland coast to Cairns, then across to the Atherton Tablelands - through tropical downpours. Wherever Pusterla stopped people crowded round and he had to give a demonstration of the van, taking an hour for what would normally have been a five minute petrol stop.
After one demonstration, Pusterla did not tighten the bolts when he put it back on, as he wanted to see what would happen if it fell off. Outside Townsville he was going up a rise on a deserted road at about 40 miles an hour when the Linda Star slid off on to the bitumen. It bounced about 15ft and then slid off into the bush, but there was hardly a mark on the exterior. He had fun getting it back, but he did it single-handed when no passing motorist stopped - they just waved to him in good humoured fashion.
After this Pusterla went south to Sydney and tried out the Linda Star for several weeks in Sydney traffic. The construction method showed no signs of deterioration and had no adverse effects on driving or handling of the utility, and no noticeable fall in performance. At speeds up to 60 milers per hour, fuel consumption did not deteriorate to any great extent.
While travelling round to test out his new creation, Pusterla called in at the Caboolture factory of Murrumba Star and met Ken Duncombe, the managing director. Duncombe agreed to make the Linda Star on his production lines, but Pusterla wanted further improvements. The door became a one-piece, and opened in a conventional swing-to manner. The front window was redesigned so that it would let in fresh air, and the overall appearance was improved by the addition of a vinyl grain to the sides, roof and door.[end of story]
[Footnote: (1968) Tony Pusterla is known to Sydneysiders for his designing of fastbacks for MGB sports cars with J. and S. Fibreglass.]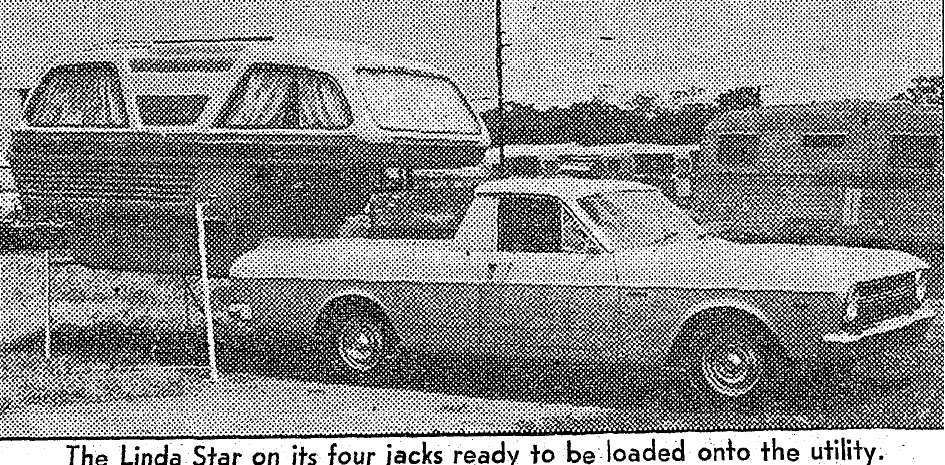 --------------------------------------------------
The following advertisements appeared in 1968 and 1969:
1968 April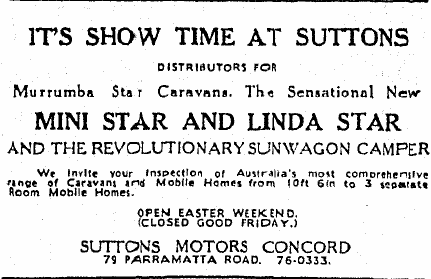 ----------------------
1968 September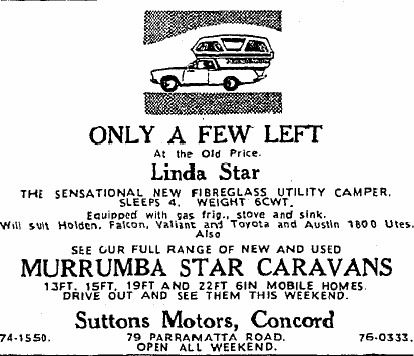 ----------------------
1969 February
----------------------
1969 July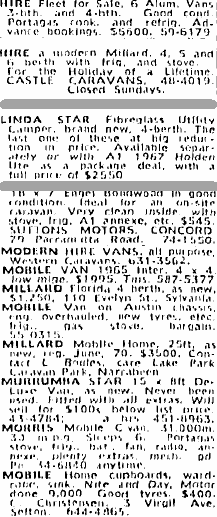 --------------------------------------------------
No records can be found in the archives showing the "Walkabout" name. The Linda Star camper seemed to have disappeared from the market within 18 months of its launch. No further advertisements can be found after July 1969. It is not known whether the "Walkabout" was a later version, or was on the original model.