Post by millard1399 on Jun 16, 2008 20:58:24 GMT 10
G'day All,
Thought I'd come over and play with you guys for a bit. First post for me in the Classic section...usually hang out over in the vintage part (I'm
Franklin1
over there).
Anyhow, why I'm here is more by accident rather than intention. We needed a van for short term accommodation for a relative. Was one on ebay only a coupla kms from home. Went and checked it out, and ended up winning it, warts and all.
Basically complete, but suffering badly from water damage at both ends. The canvas on the pop-top is R/S.
Bought the van home last Friday, and spent the weekend assessing the repairs required. The more you take apart to allow inspection, the more you realise that
even more
is required to be taken off as well.

Have decided to more or less do an extensive "rebuild".
Rego paperwork with the van says it is a 1977 build. Van is 14ft long x 7ft wide. Runs on 13" wheels. Weighs 880kgs (has mechanical override brakes). Identification number on drawbar is MM1399.
First group of photos show outside and inside photos taken from the ebay listing...
You can see the evidence of some water damage in the inside photos.
Next group of photos show the van being progressively disassembled...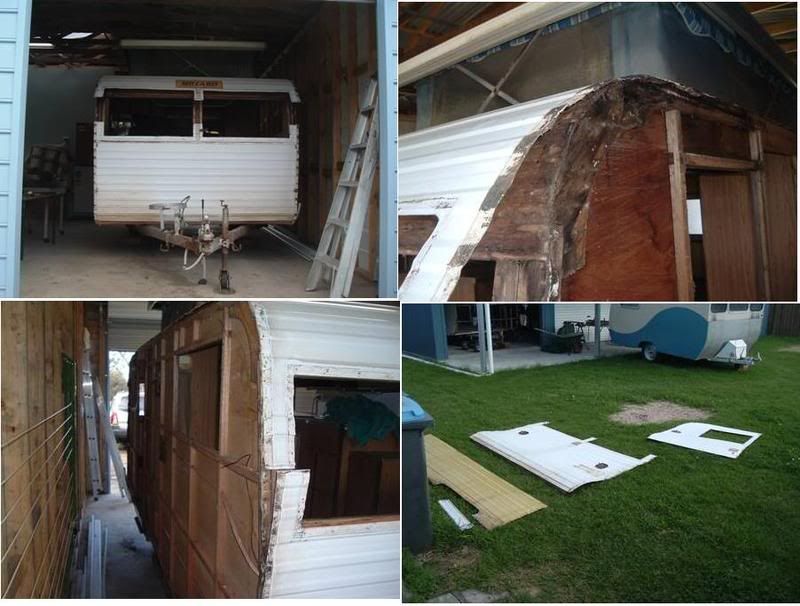 Note the gold lacquer coating on the inside of the aluminium cladding lying on the ground. All pieces are like this...the exterior colour is either white or blue.
Next photos show the water damage on the offside...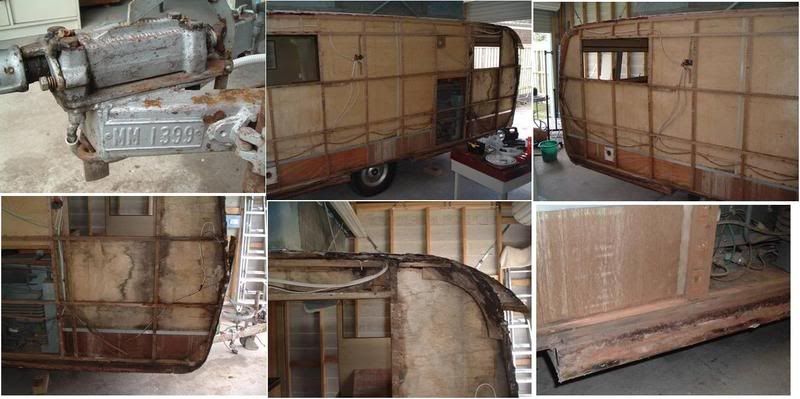 The bottom right photo shows the mud and rust that had built up between the chassis and the aluminium cladding. There is a cover strip bridging the two, which I've already removed. There is no way you would be able to see this during a pre-purchase inspection.
Last group of photos show the rear end water damage down in both bottom corners...
The bottom right photo shows the three tools that have been worth their weight in gold during the dismantling. The brush on the left is made of tuff plastic and has a chiselled edge at one end. Great for scraping the mastic/sealant from all windows/cover strips, and does NOT damage the painted aluminium surface. The middle tool is a jeweller's screwdriver which I'm using to prise the million-and-one staples up slightly, so that I can get the parrot-beak pliers onto them and pull them out. Whoever invented staple guns orta be shot...they are a restorer's nightmare!!


So there you have it so far... Thought I might as well come over and post the info as I progressively work through the job. Might be of some use to someone contemplating their own restoration.
Till next time,
cheers,
Al.